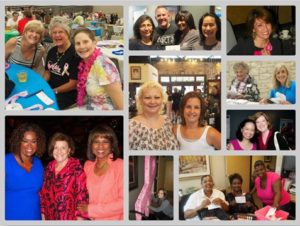 Hours of Operation
Monday

7:00 AM - 5:00 PM

Tuesday

7:00 AM - 5:00 PM

Wednesday

7:00 AM - 5:00 PM

Thursday

7:00 AM - 5:00 PM

Friday

7:00 AM - 4:00 PM

Saturday

closed

Sunday

closed
Frequently Asked Questions about The Rose Diagnostic Center - South East
What does The Rose Diagnostic Center - South East provides?
They provide access to screening, diagnostics, and treatment services to any woman regardless of her ability to pay.
The Rose Diagnostic Center - South East
Mission Statement
"Saving lives through quality breast health services, advocacy and access to care for all."
Mission Statement from The Rose Diagnostic Center - South East website
The Rose Diagnostic Center - South East provides mammograms in Texas. To obtain more details on eligibility please contact The Rose Diagnostic Center - South East directly by calling (281) 484-4708.
Free Mammograms
Not all facilities that offer free mammograms are completely free to everyone. Many diagnostic testing locations are free, some locations require that you meet income eligibility criteria. Call and ask before making an appointment or fully read the description information we provide.
Sources
Below are citations of the external sources verifying how and why this location is listed as a free mammogram agent.
As seen on www.chron.com on Oct 6, 2021


Article announcing free screening by The Rose:

The Rose operates two clinics in Houston and Bellaire respectively where women, insured or uninsured, receive diagnostic and treatment services.

October is Breast Cancer Awareness according to the World Health Organization. Under normal circumstances, the landscape would be dotted with cheering crowds in pink t-shirts, attending sporting events, flaunting pink ribbons and wristbands, all purchased for the purpose of raising awareness about the dreaded disease. It's also when free screenings, mammograms and pamphlets of information are made available on college campuses and fitness centers.
Recent Comments:
User:

I called about scheduling a diagnostic mammogram as per my doctors orders. I asked for financial assistance as I am not able to pay $1600 after insurance covers their portion and was told NO. Their advertisements to help any woman of any financial means is a farce. There are many of us that are underinsured and need assistance. These organizations receive millions of dollars to assist women, all of them. Not okay that they get to pick and choose who does and who does not receive the donated funds. It's fine, just advertise your organization accordingly, as PROFIT

User:

Hello! I have make an appointment for mammogram on November 3. I told the lady its difficult to me as a separate mom with 3 girls make a payment of 495 for a 3D. I need to get it done as soon as possible. So i asked the lady if i can make it in payments and she said no. Theres another option that i can have?

User:

Would like to schedule an appointment for a mammogram

User:

I have symptoms. Pain in my right breast, near rib cage. I don't feel a lump but it is a sharp burning pain. Ugh.

User:

I was a patient there about 3 years ago. I recently noticed some drastic and concerning changes and need another mammogram asap. I am very concerned and want to know if I can see someone. I know something is not right. I do not need a doctor to tell me that part. I just need you guys to tell me if I have cancer or not.

User:

My mother, Maria Saucedo, is needing a mammogram & ultrasound done ASAP please.

User:

I need a diagnostic mammogram asap. My primary care dr give me the referral....
Add Comments