Pearlman Cancer Center
Pearlman Cancer Center provides mammograms in Georgia. To obtain more details on eligibility please contact Pearlman Cancer Center directly by calling (229) 433-1000.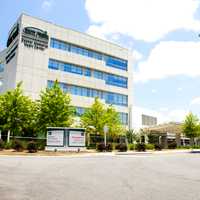 FAQs
What services does Georgia Department of Public Health offer?
Breast and cervical cancer screening, diagnostic services and referral to treatment as medically indicated to uninsured women residing in Georgia.
Is this clinic a participating location for BCCP?
Yes.
Is there an income restriction?
Yes.
Residents under 200 percent of the federal poverty level may be eligible, along with rarely or never screened women are qualified.
What is the age eligibility requirement?
Cervical cancer screening is available to women 21 to 64 and breast cancer screening is available to women between the ages of 40 and 64.
What are the services provided by BCCP?
Clinical Breast Examination, Mammogram, Pelvic Examination, Pap test, Human papillomavirus (HPV) test, Diagnostic testing of abnormal results and Referrals to treatment through the Women's Health Medicaid Program.
Do I need a Dr's referral for a free mammogram?
Do I need to make an appointment to be seen?
Do I need to be a resident of this county to get a free mammogram?
---
Listings Nearby