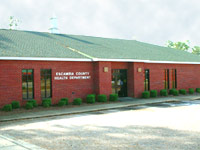 Escambia County Health Department
8600 Highway 31 North
Atmore, AL, 36502
(251) 368-9188
Visit Website
Visit Facebook
Last-Modified: 2021-12-19 20:13:16


Hours of Operation
Monday

8:00 AM - 5:00 PM

Tuesday

8:00 AM - 5:00 PM

Wednesday

8:00 AM - 5:00 PM

Thursday

8:00 AM - 5:00 PM

Friday

8:00 AM - 5:00 PM

Saturday

closed

Sunday

closed
Frequently Asked Questions about Escambia County Health Department
Is Escambia County Health Department a participating provider for the Alabama Breast and Cervical Cancer Early Detection Program (ABCCEDP)?
Yes, it is.
Who is eligible for this program?
Women who have an income at or below 250% of the federal poverty guidelines - 2018 Income Eligibility Guidelines; Women without insurance or who are underinsured; Women aged 40-64 screen every other year; Women age 40-64 with breast complaints; Women age 40-64 (High Risk), screen every year.
Is women under age 40 very high risk breast cancer risk only eligible for this program?
Yes, Personal history of breast cancer, OR Breast mass AND one of the following: First degree relative with breast cancer Bloody nipple discharge expressed by the provider. Women age 65 and older with no insurance or Medicare Part A only.
Is getting screened for cancer increases the chance to detect the disease early?
Yes, when it is most likely to be curable.
Escambia County Health Department provides mammograms in Alabama. To obtain more details on eligibility please contact Escambia County Health Department directly by calling (251) 368-9188.
Free Mammograms
Not all facilities that offer free mammograms are completely free to everyone. Many diagnostic testing locations are free, some locations require that you meet income eligibility criteria. Call and ask before making an appointment or fully read the description information we provide.
Recent Comments:
Add Comments