Dale County Health Department
Dale County Health Department provides mammograms in Alabama. To obtain more details on eligibility please contact Dale County Health Department directly by calling (334) 774-5146.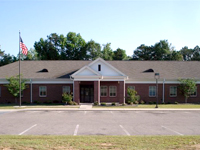 FAQs
What program do they participate in?
They are a participating provider for the Alabama Breast and Cervical Cancer Early Detection Program (ABCCEDP).
For whom are their services?
- Women who have an income at or below 250% of the federal poverty guidelines - 2018 Income Eligibility Guidelines - Women without insurance or who are underinsured - Women aged 40-64, screen every other year - Women age 40-64 with breast complaints - Women age 40-64 (High Risk), screen every year - Women age 65 and older with no insurance or Medicare Part A only.
What if I am under the age of 40?
You may qualify if you have a very high breast cancer risk only (personal history of breast cancer, or if you have a breast and a first degree relative with breast cancer or bloody nipple discharge).
How can I get more information on my program eligibility?
To find out if you qualify for a free or low-cost mammogram and Pap test and where to get screened, (877) 252-3324.
Do I need a Dr's referral for a free mammogram?
Do I need to make an appointment to be seen?
Do I need to be a resident of this county to get a free mammogram?
---
Listings Nearby