Crenshaw County Health Department
Crenshaw County Health Department
Crenshaw County Health Department provides mammograms in Alabama. To obtain more details on eligibility please contact Crenshaw County Health Department directly by calling (334) 335-2471.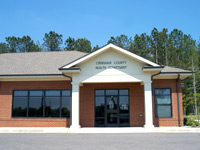 FAQs
What does Crenshaw County Health Department provide?
This Center is a participating provider for the Alabama Breast and Cervical Cancer Early Detection Program or ABCCEDP.
How to be eligible on their program?
Women aged 40 to 64 years old were screened every other year.
Women aged 40 to 64 years old with breast complaints.
Women aged 40 to 64 are high risk, screened every year.
Women under age 40 years old with a very high breast cancer risk only.
Has a personal history of breast cancer.
Has breast mass with a first-degree relative with breast cancer.
Bloody nipple discharge expressed by the provider.
Women age 65 and older with no insurance or Medicare Part A only.
Getting screened for cancer increases the chance to detect the disease early when it is most likely to be curable.
How to contact them?
Their phone number is 1- 877- 252-3324.
Do I need a Dr's referral for a free mammogram?
Do I need to make an appointment to be seen?
Do I need to be a resident of this county to get a free mammogram?
---
Listings Nearby